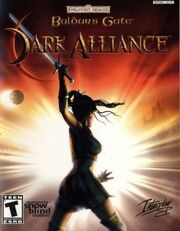 Baldur's Gate: Dark Alliance
is an spin-off video game series to
Baldur's Gate
 by Snowblind Studios and 
Black Isle
Studios.
Aside from the name and setting, the two game series' have little to nothing in common. Dark Alliance is a set of action RPG/ hack and slash console games with 3D graphics with completely different gameplay tone from the original. Because of that the two franchises share only a small common following and Dark Alliance is outright disliked by a large number of fans of the original.
The first game in the series, Baldur's Gate: Dark Alliance was developed by Snowblind Studios and published by Black Isle Studios. It was released on December 4, 2001 for the Playstation 2 and Xbox which got later ported to the GameCube and the Game Boy Advance. Originally there also was a PC port in production by CD Projekt, but it was canceled before release.
The second game, Baldur's Gate: Dark Alliance II, was developed by Black Isle Studios and published by it's chief company Interplay Entertainment. It was released on January 20, 2004 for Playstation 2 and Xbox.
External links
Edit
Community content is available under
CC-BY-SA
unless otherwise noted.